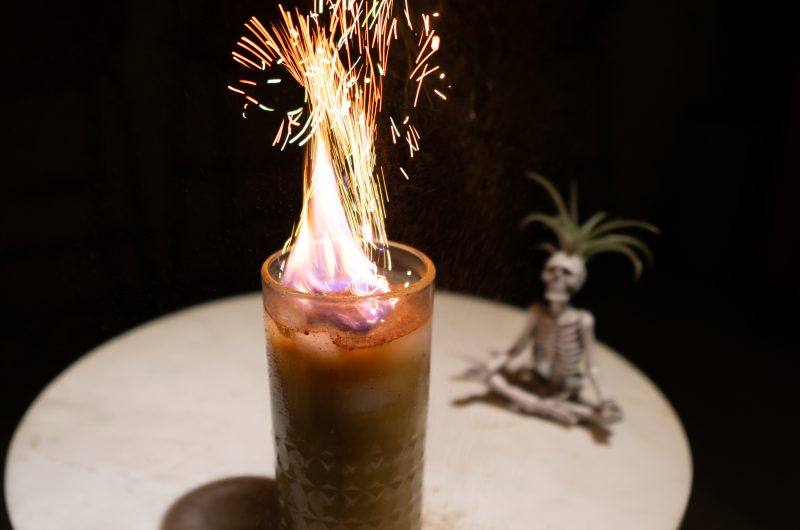 Black Banana
Designed as a tribute to the city of New Orleans, this cocktail was inspired by Brennan's Bananas Foster – a flambéd delight highlighting both bananas and dark rum. NOLA's position as America's gateway to the Caribbean Islands meant both these ingredients (and coffee!) were key imports, and allowed cultures to blend into one of the most vibrant and unique cities anywhere in the world. This drink tries to honor these influences, and capture a bit of the spirit and mystique that the city exudes.
Ingredients
2 oz almond milk (unsweetened)

0.75 oz molasses simple syrup (2:1:0.25 sugar:water:molasses)

1 oz Mr Black Coffee Liqueur

0.75 oz white rum (Copalli)

0.5 oz banana liqueur

0.25 oz allspice dram (St Elizabeth)

pinch cinnamon
Directions
Add all ingredients to a shaker and shake with ice
Strain into a Collins glass with fresh ice
Garnish with fire and powdered cinnamon & nutmeg, toasting the spices and breathing life into the fire.
My suggested fire method is to float a crouton soaked in 151 proof rum on the drink, lighting it, then shaking spices over the fire. Remove the used crouton before serving. Other fire methods may be used.
Notes
Created for the 2021 Mr Black Coffee Cocktail Challenge